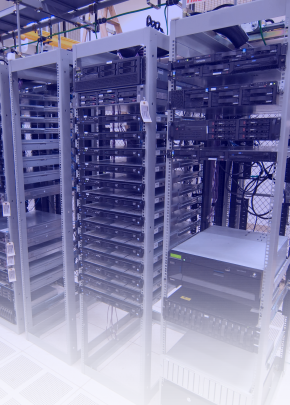 A corner of our server room
What we do
We like analyzing Forex world with a totally new hi-tech approach, using special backtest optimizaion with 99% tick data accuracy (thanks to our "friend" Birt).
More: we internally developed a special and absolute unique tool that is able to combine together tens of lowrisk settings for the Expert Advisor we choose.
Naturally, every Expert Advisor needs some (good) settings to get working.
The Expert Advisor we choose has tons of settings.
Our main task is testing how a particular crosspair works during a specific range period (1 year, 2 years, 4 years) using this Expert Advisor.
We own a selfmade dedicated server room with over 40 servers, where each of them is constantly running trillions of setting combinations!
We are actually using a total of 240 CPU Intel CORE i7: it means we can start up to 240 mt4 optimization processes at the same time. Not so bad :-))
After one month calculations, each optimization gives few good results, say 100 starting from many trillions.
So we have to manage about 2400 results.
But only some tens of them are really profitable with a very low risk.
How we choose them? That's the secret...
How we do
As the Expert Advisor we mentioned above is 100% free, we do only sell single set files for one crosspair, or multiple set files combined for several crosspairs.
After chosing these set files, we manually improve them a bit with a personal fine-tuning.
The next step is passing through the database process, who will give the customer to use many non-matching set files, from different crosspairs, timeframes and indicators.
That's the very hard job to get these results: it tooks almost 2 years long in programming this "non-matching" code.
Today our company is a 100% software development company specialized in professional backtester optimization on currencies trading, finely-tuned for Metatrader4.
The highest quality and extensive integration capabilities of our job, gives the customers the most famous free Expert Advisor on the web combined with the best set files you can find over the web for this EA.
More than 7 years of trading with own real money and about 5 years dedicated to MetaTrader programming allowed us to see countless strategies.
In our work we do a lot of emphasis on aspects such as robustness, stability and performance.
Latest developments
In the last 2 years, we have been focused in developing a totally new Trading System from scratch. It's not a "pip hunter", so there is no need to get 99% accuracy in backtest optimization. In fact this ATS is specially designed to work on open bar prices method; in this way we can go back through a full data range period of 8 years (and over), adding a great improvement in backtest reliability, dramatically limiting the backtest curve fitting issue.
Furthermore, backtest optmization on open bar prices will be much faster than ever.
Want to see how works our set files? Take a look to our Myfxbook account, to see our work in progress.
Click here www.myfxbook.com/members/SioliBros
These results can give you a perspective on our way to get profitable and quite safe systems on Forex Market.

All the best in your trading adventure.

Stay tuned...
---
| | | |
| --- | --- | --- |
| | SioliBros s.a.s. | Via Varanini 28, 20127 Milano (Italy) | info@siolibros.net | VAT IT03255860961 | |